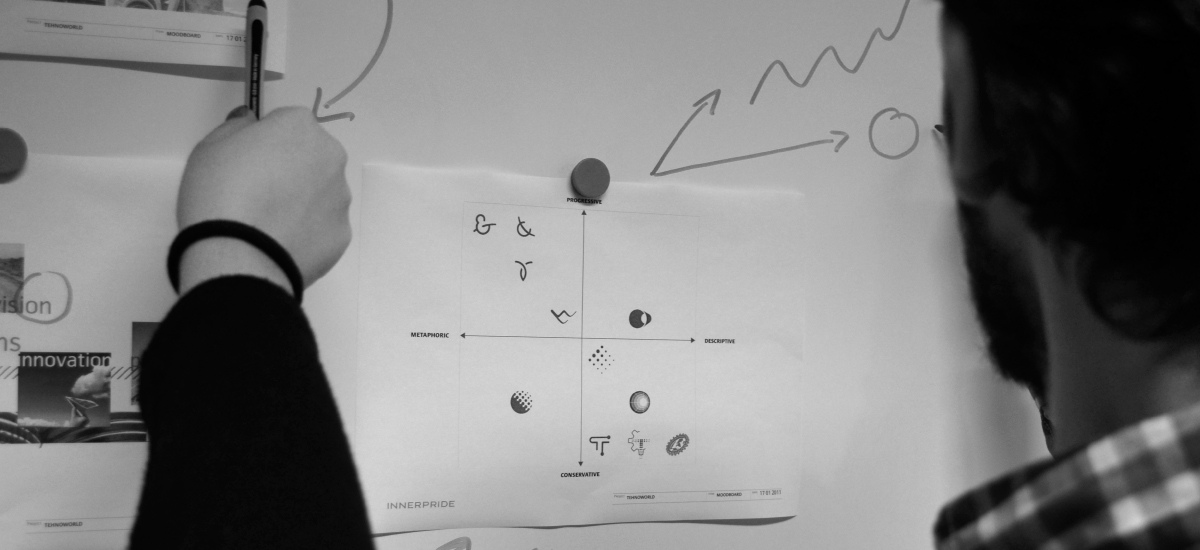 Insight
/ News
Latest things that happened
Here are the latest news from innerpride. Be the first to find what we've been up to and why not, share it with others.
Insight
/ Articles
Knowledge is for sharing
We strongly believe in our role as educators, for our clients and for the general public as well. We try to give back as much as possible from what we've learned through the years.
Insight
/ Key questions and answers
How to choose a agency
To help you find the best agency for your project, we've answered six of the most common questions we heard in our over 15 years of activity.
1. What makes innerpride different?

see answer
We are among the first branding agencies in Romania, founded in 2002 (over 15 years of experience) by people who are still enthusiastic and full of energy.
We are an agency focused on branding, with strong knowledge proven over time by national and international branding and rebranding projects relevant to their markets.
2. innerpride is a branding or an advertising agency?

see answer
Our core capabilities are brand strategy and brand design. The strategy dictates everything we do, from identity, brand design to packaging and online branding (web design). We have created a team that has the knowledge and capabilities to build and develop strong brands.
There are cases when we can do a complete project – branding, online branding (web) and advertising. We are able to change the course of a brand and implicitly that of a business.
3. What are the capabilities of innerpride?

see answer
At innerpride, strategic and creative thinking are in-house, the team being together for many years. We do not outsource any aspect of your branding project, such as brand audit, brand strategy, naming, brand design, etc. We only reach out to our reliable partners for activities such as media buying and video production.
Core capabilities: Corporate Branding, Consumer Goods Branding, Retail Branding, Online Branding.
Specialized capabilities: Calligraphy and Lettering, Naming and Taglines.
4. Why hire innerpride for naming rather than a dedicated company?

see answer
A brand name is a critical part of the company's story and must be carefully grounded in the brand's strategy and philosophy. When creating a new brand or repositioning an existing brand, every touchpoint should integrate to tell the story. Pulling one element out of the development process can lead to a disconnected narrative.
Our naming process is done only after we develop the brand strategy which includes positioning and brand personality, giving us a clear target. The process is rigorous and we work hard to shorten the long lists down to the most targeted names. Before presenting a name, we run them through a preliminary trademark screening to eliminate future conflicts.
If you decide to hire a naming-only firm, make sure the strategy and all visual and verbal touchpoints are closely involved in the name generation process.
Here's a sample of our naming work for international market:
Lifeset – leading authority in addiction solving resources platform
Cachet – manufacturing patent
Here's a sample of our naming work for Romanian market:
Trefle – traditional Romanian clothing retailer
Visaria – interior design
Focality – IT & C company
Profiway – IT saler
Procent – server products
Fermador – meat processing producer and distributor
Autograf – office supplier retailer
Reper – chain of dialysis clinics
Seven Hills – international school
5. Who are innerpride's clients?

see answer
Over the past 15 years we have developed a vast portfolio of projects covering most of the existing industries ranging from retail, manufacturing, pharmaceutical and food with clients such as Iulius – the largest developer and manager of commercial and office space, Musette – the number one luxury leather products manufacturer at national level.
6. Who will actually work on my project?

see answer
The people who you meet in the preliminary discussions of the project will absolutely be on the team working on your project day by day. We are a people's agency and we are all passionate about doing the work, not just selling or managing it.
Transforming an accomplished musician into an educational brand see more_
Timeless simplicity
for sophisticated cuisine see more_
Offices / Headquarters

Colonel Langa 17, Iași, Romania